Cool Cruiser Calendar of Events
Mar – Apr 2019
Sat Mar 16, 2019
9am – 12pm Cruise-in at Stock Plaza Shopping Center
Where: 7711 Collier Blvd Naples, Florida 34113
Description: Every Saturday 9am to 12pm. For more detail contact Mike Cox: mcox1932@comcast.net
12pm – 3pm Going Away Picnic
Where: 6920 Amity Road Naples Florida (Alanders)
Description:  For more detail contact Jack Izbicki at izbickij@aol.com or text 239.734.9477.
Fri Mar 22, 2019
6pm – 9pm Spring Fun Party
Where: DAVENPORT'S TOY BARN 765 Nursery Lane Naples Fl.
Description: Please RSVP to attend to: Lynette Davenport At 239-593-0819 or Robert Davenport at 239-825-0434 or click here to RSVP via email.
Sat Mar 23, 2019
9am – 12pm Cruise-in at Stock Plaza Shopping Center
Where: 7711 Collier Blvd Naples, Florida 34113
Description: Every Saturday 9am to 12pm. For more detail contact Mike Cox: mcox1932@comcast.net
11:00am – 3:00pm Ava Maria Margarita and Taco Festival
Where: 5076 Annunciation Cir. #104 Ave Maria, FL 34142
Description: For more detail see Flyer or contact Cam Koblish:camkoblish@comcast.net
Sat Mar 30, 2019
9am – 12pm Cruise-in at Stock Plaza Shopping Center
Where: 7711 Collier Blvd Naples, Florida 34113
Description: Every Saturday 9am to 12pm. For more detail contact Mike Cox: mcox1932@comcast.net
Tue Apr 2, 2019
6pm – 7pm Cool Cruisers Members Meeting
Where: Lorenzo Walker Technical College 3702 Estey Ave, Naples, FL 34104
Description: Open to all Members and Guests. For more detail contact Mike Cox: mcox1932@comcast.net
Sat Apr 6, 2019
9am – 12pm Cruise-in at Stock Plaza Shopping Center
Where: 7711 Collier Blvd Naples, Florida 34113
Description: Every Saturday 9am to 12pm. For more detail contact Mike Cox: mcox1932@comcast.net
Sun Apr 7, 2019
11am – 3pm Miromar Outlets Free Cruise-in
Where: 10801 Corkscrew Rd, Estero, FL 33928
Description: For more detail contact Cam Koblish:camkoblish@comcast.net
Sat Apr 13, 2019
9am – 12pm Cruise-in at Stock Plaza Shopping Center
Where: 7711 Collier Blvd Naples, Florida 34113
Description: Every Saturday 9am to 12pm. For more detail contact Mike Cox: mcox1932@comcast.net
Sat Apr 20, 2019
9am – 12pm Cruise-in at Stock Plaza Shopping Center
Where: 7711 Collier Blvd Naples, Florida 34113
Description: Every Saturday 9am to 12pm. For more detail contact Mike Cox: mcox1932@comcast.net
Sat Apr 27, 2019
9am – 12pm Cruise-in at Stock Plaza Shopping Center
Where: 7711 Collier Blvd Naples, Florida 34113
Description: Every Saturday 9am to 12pm. For more detail contact Mike Cox: mcox1932@comcast.net
---
For More Information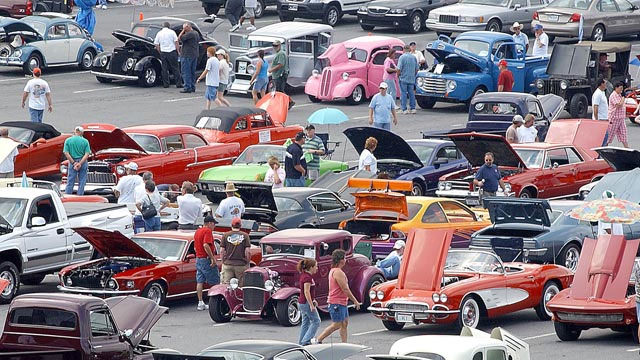 For more information, please contact Cam Koblish at (973) 819-5537, or e-mail: CAMKOBLISH@COMCAST.NET
Listing of "Possible" Car Shows/ Events Scheduled In Southwest Florida Larry Day's List
For more detailed info (including event fliers, registration forms, etc) on above listed shows/cruise-ins (plus hundreds of others) check the following websites: